GOLD MEDAL : Greysia Polli/Nitya Krisinda M
GOLD MEDAL : Moh. Ahsan
/
Hendra Setiawan
SILVER MEDAL : Liliyana Natsir/
Tontowi Ahmad
BRONZE MEDAL : Praveen Jordan/Debby Susanto
.
As usual, I just wanna share my credit to all Indonesian badminton athlete and coach in Asian Games 2014.
Congrats and big thanks for presented two gold, a silver, and a bronze in Asian games 2014. I'm extremely proud to you all.
God, I am excessive loving about badminton and Indonesia.
I imagined how cool to hear Indonesia Raya in Incheon and Merah Putih was on the top.
Now, Let me write a little review of the match.
GOLD MEDAL
Saturday, September 27, 2014 was the golden day for

Greysia Polii and Nitya Krishinda Maheswari because of achieved their biggest triumph as they won the Women's Doubles gold at the Asian Games 2014.
A day earlier, they had beaten World champions Tian Qing/Zhao Yunlei. Then, in final match, they handled Japan's Misaki Matsutomo/Ayaka Takahashi in 46 minutes, 21-15 21-9.It was really a good progress in Indonesia's women double sector. I'd hope it will happen to women single too.
vs
What a sweet revenge ha!
Hendra/Ahsan losed in Indonesia Open, meanwhile Lee Yong Dae/Yoo Yeon Seong losed in their country (Korea) on the bigger event.
They against Yong Dae/Yeon Seong with a steely performance under pressure. The match was a hotly-contested battle. Stunning rallies and a few unforced errors from both of them made me hard to breath.
Finally with score 21-16 16-21 21-17, Hendra/Ahsan defend Indonesia's Men Doubles gold and prolong the agony of Lee and Yoo.
Look at this funny meme below,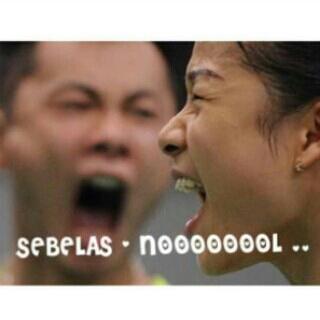 I can hardly believe that Xu/Ma got 0-11 to Tontowi/Liliyana. How can... lol...
Tontowi Ahmad/Liliyana Natsir beaten Xu Chen/Ma Jin in just 32 minutes : 21-12 21-10.
They met duo Z ( Zhang Nan/Zhao Yunlei ) in final. Their head to head is 5-5. So, it's just like a new beginning with 0-0. In the first game, I was peevish when they already lead 13-7 and Tontowi failed to return shuttlecock twice and how can his racket was broken....howwwww.....
Well, Duo Z played good anyway, I thought they deserved gold.
It's okay. Next event, Tontowi/Liliyana, go get gold for sure!
Praveen/Debby have just as formidable a task against Duo Z in semi-final. I supposed that they would win and created all Indonesian final in Mix double sector. But, unfortunately, Praveen/Debby must be contented with a bronze medal.
Well, the last, welcome home guys....
Thanks for making us proud. Go get another gold ......